Tiger Theatricals produces theater on Broadway, Off-Broadway, on-the-road, in the US and abroad. Also, produces events and integrated marketing services for theater, corporations, businesses and non-profit organizations. Dan Whitten is President of Tiger Theatricals. Click here to view his bio.
TIGER NEWS
ERENI SEVASTI SINGS JONI MITCHELL…STEPPING OUT OF BLUE
Jun 20, 2015 9:30 PM
Stage 72 @ the Triad
Jacques Brel star Ereni Sevasti returns for one-night-only to reprise her sold out April show.
Ereni draws you into an immersive experience singing from the Blue Album and other Joni tunes as she accompanies herself on guitar, dulcimer, and spins a few Joni stories.
RECENT PRESS
Get a French Kiss from "Jacques Brel" on Valentine's Day
Broadwayworld.com

Cabaret Scenes Review!
JACQUES BREL RETURNS to Play Triad w/ Cuccioli, Diaz, Stanek & More... read more
Dan Whitten featured
on Broadway Blogspot
ENTER LAUGHING coming to BROADWAY!
www.enterlaughingthemusical.com
Click on the links to read more
'Laughing' all the way to Broadway
"Enter Laughing" Looks to be Broadway Bound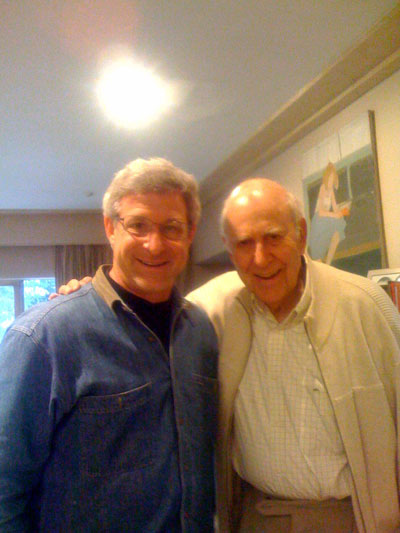 Dan with Carl Reiner
JAY JOHNSON: THE TWO & ONLY, WINS TONY FOR BEST SPECIAL THEATRICAL EVENT
Dan Whitten wins a 2007 Tony Award for producing The Two & Only in the "Best Theatrical Event Category".The show's national tour will be at Princeton's McCarter Theatre, Friday, February 25th and SOPAC in South Orange, NJ, Saturday January 26th.
READ MORE...
T-INK LAUNCHES MUSICAL T-SHIRTS
Showstoppers Musical T-Shirts and Apparel, launched at The League of American Theater Producers Road Event in NYC, May 2007. With the touch of a finger, and the magic of T-ink technology, Showstoppers Musical T-Shirts magically "sing" hits from Broadway Shows. Dan Whitten, President of Tiger Theatricals, heads the SHOWSTOPPERS division at T-ink.
READ MORE...